A pool of highly qualified and varied intellectuals both of academia & corporate sector with their rich experience and knowledge are directing MIM towards the sustainable growth and success for shaping the Institution towards the world class presence. Institute's philosophy is drawing and attaining the significant recruits across the world to make a better tomorrow.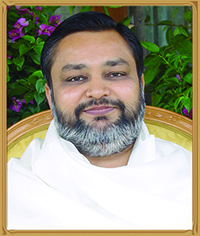 Dr. Girish Chandra Varma
Chancellor
Maharishi Mahesh Yogi Vedic Vishwavidyalaya (MP)
President
Maharishi World Peace Movement
Maharishi Institute of Management Group
Maharishi Institute of Information Technology
Director General
Maharishi Global Capital of World Peace, Brahmasthan of India
Maharishi World Center of Gandharva Ved Music
Prime Minister
Maharishi Vedic Vishwa Prashasan
Chairman
Maharishi Vidya Mandir Schools Group

Prof. Bhuvnesh Sharma
Vice Chancellor
Maharishi Mahesh Yogi Vedic Vishwavidyalaya (M.P.)

Dr. TPS Kandra
Vice Chancellor
Maharishi University of Management & Technology, Bilaspur Chhattisgarh

Shri. Rakesh Mahajan
Chairman & Managing Director
Pan Foods Ltd.

Prof. Debu Chawdhury
Noted Sitar Maestro Ex-Dean and Head
Department of Fine Arts and Music-Delhi University

Minister

Celebrations and Harmony, GLOBAL COUNTRY OF WORLD PEACE

Shri. Arvind Singh Rajpoot
Ragistrar
Maharishi Mahesh Yogi Vedic Vishwavidyalaya (M.P.)

Dr. Pankaj Chande
Member
Maharishi Institute of Management Group

Prof. (Dr.) Virendra Gawande
Director
Maharishi Institute of Management- Bhopal
Dr. Amit Kumar Katiyar
Asst. Registrar
Maharishi Institute of Management- Bhopal

Mr. Rohit Singh Dangi
HOD, Management Department
Maharishi Institute of Management- Bhopal

Mr. Bhuvnesh Singh Yadav
HOD, Computer Science Department
Maharishi Institute of Management- Bhopal

Dr. Rinki Hindoliya
HOD, Education Department
Maharishi Institute of Management- Bhopal

Mr. Manish Pardeshi
HOD, Commerce Department
Maharishi Institute of Management- Bhopal

Mr. Dharam Pal Singh
HOD, Humanities Department
Maharishi Institute of Management- Bhopal